MR R. SOWAMBAR
CHAIRMAN, BEACH AUTHORITY

REPRESENTATIVES
MEMBERS
Representative of Ministry of Environment, Sustainable Development, and Disaster and Beach Management
Mrs S. Samynaden
Representative of Ministry of Local Government and Outer Islands
Mr. A. K. Prayag
Representative of Ministry of Tourism
Mrs L. Sanspeur
Representative of Ministry of Youth and Sports
Mr J. Jowaheer
Representative of Ministry of Housing and Lands
Mr S. Soborun
Representative of Ministry of Ocean Economy, Marine Resources, Fisheries, Shipping and Outer Islands
Mr. N. Bheemul
Representative of Police Department
Mr. R. Luthmoodoo
Board Members
Mr. V. Bakee
Mr. O.Kholeegan
Representative of Association of District Councils
Mr R. Jangi
Representative of Rodrigues Regional Assembly
Mr J. Thomas
DR. DHUNEEROY BISSESSUR
General Manager
(MSc, PhD, CBIOL, MIBIOL, MIIRSM, MIPM)
"La force d'un employé réside dans la qualité et la quantité de travail qu'il fournit à son employeur."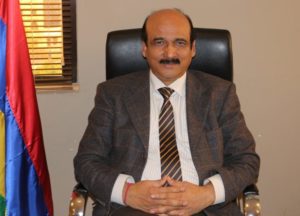 Dr. Dhuneeroy Bissessur, General Manager of Beach Authority commenced his current role in March 2015, prior to which he held the posts of Researcher at the Mauritius Sugar Industry Research Institute, Manager at Rose Belle Sugar Estate and Municipal Councilor of Vacoas-Phoenix. He was formerly the chairperson at the Central Housing Authority and has also chaired, at various times, different Municipal Committees. From 1983 to 1986, he was a member of the Coordination Committee at Government level.
Holder of an MSc in Genetics and its applications and a PhD in Biological Sciences from the University of Wales (UK), a Higher Diploma in Personnel Management, a Diploma in Industrial Psychology and a Diploma in Occupational Health and Safety, Dr. Dhuneeroy Bissessur, who is married and father of two children, brings with him 42 years of experience as a researcher in the field of biological science; he has to his credit over 100 technical and scientific publications, both local and international. Furthermore, he has delivered several presentations during workshops, seminars, conferences, as well as on national and international media.
In addition, he is a Mauritius Qualification Authority (MQA)-certified trainer and has been part-time lecturer at the University of Mauritius and Regional Training Center. He is presently the President of the Biodiversity Action Group NGO, which he created in 1992 to sensitise the public about environmental issues in line with the three objectives of the United Nations Conventions on Biological Diversity (CBD), in particular, capacity building initiatives for Africa with respect to the third objective, that is, Access to genetic resources and Benefit Sharing (ABS). In 2013, he was the winner of the Africa NGO Leadership Award.